WKF KARATE 1 Serie A - Salisburgo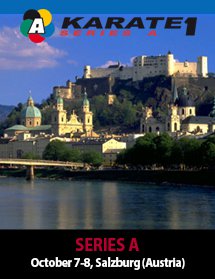 Only members of National Federations recognized by WKF are admitted to participate, as per Series A Organizing Rules 2017 (SA OR Point 5 Registration).
Clubs / teams / federations are responsible for the quality of the entered registration data.
SI RAMMENTA CHE -COME PREVISTO DAL REGOLAMENTO DELLE GARE WKF SERIE A 2017- SOLO I MEMBRI DI FEDERAZIONI NAZIONALI RICONOSCIUTE DALLA WKF SONO AMMESSI A PARTECIPARE.
IN CASO DI REGISTRAZIONE NON CONFORME ALL'EVENTO, LA FIJLKAM COMUNICHERA' ALL'ORGANIZZAZIONE WKF LA NON AUTORIZZAZIONE A PARTECIPARE.
Sporthalle Alpenstraße - Salisburgo