WKF - Senior World Championships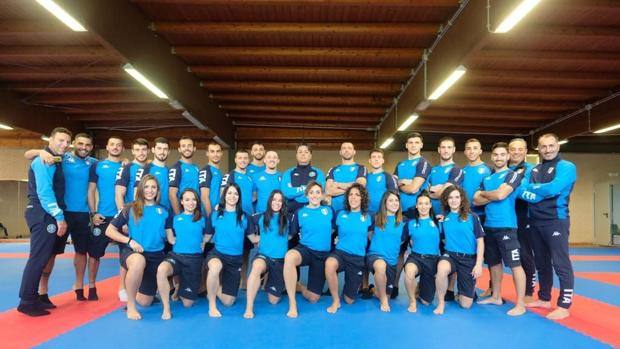 Grandi notizie per tutti i fan di KARATE!
Le eliminatorie degli storici Campionati del Mondo KARATE 2018 saranno trasmessi in streaming LIVE su karateworld.tv.... seguite i nostri ragazzi!!!!!!
https://www.facebook.com/wkfofficial/videos/910583405998348/
---
NEW !!
Per facilitare l'acquisizione dei biglietti per partecipare all'evento a gruppi di più di 6 persone, pubblichiamo la comunicazione della WKF nella quale si informa dell'istituzione di un servizio appositamente dedicato per fornire accesso a acquisire biglietti di gruppo tramite assistenza telefonica. Tutti i fan di Karate interessati a ottenere biglietti di gruppo per i Campionati del Mondo 2018 possono farlo inviando un'email a
tickets@karate2018.com
con la loro richiesta indicando il numero di biglietti che desiderano acquistare e i loro dettagli di contatto (nome, indirizzo e-mail e numero di telefono della persona di contatto).
31/08/2018: COMUNICAZIONE DELLA WKF
As the upcoming 2018 Karate World Championships is fast approaching, and in order to facilitate the acquisition of tickets to attend the event to groups larger than 6 people, we would like to inform you that a specially-dedicated service has been established to provide access to acquire group tickets via telephone assistance. All Karate fans that are interested in getting group tickets for the 2018 World Championships may do so by sending an email to tickets@karate2018.com with their request stating the number of tickets they want to acquire and their contact details (name, email address and telephone number of the contact person).
November 6-9
ELIMINATION ROUNDS

The best karatekas in the world clash during four thrilling days to reach the finals of the tournament. Sports fans will have the opportunity to watch in action athletes from all over the world.

November 8
OPENING CEREMONY

Do not miss out the opening ceremony of the unforgettable event. Over hundred countries will participate in the parade of flags.

November 10-11
FINALS AND MEDAL BOUTS

The quest to the podium will be decided in two spectacular days. It will be the moment to crown the new Karate heroes.

November 11CLOSING CEREMONY

The Closing ceremony will wrap up the historic 24th edition of Karate World Championships
Venue location: WiZink Center - Av. Felipe II, s/n. 28009, Madrid (SPAIN) -- Website: https://www.wizinkcenter.es/recinto
Av. Felipe II, S/N, 28009 Madrid, Spagna Madrid (SPA) - WiZink Center